Welcome and Happy Shopping, or
Happy Looking, whatever the case may be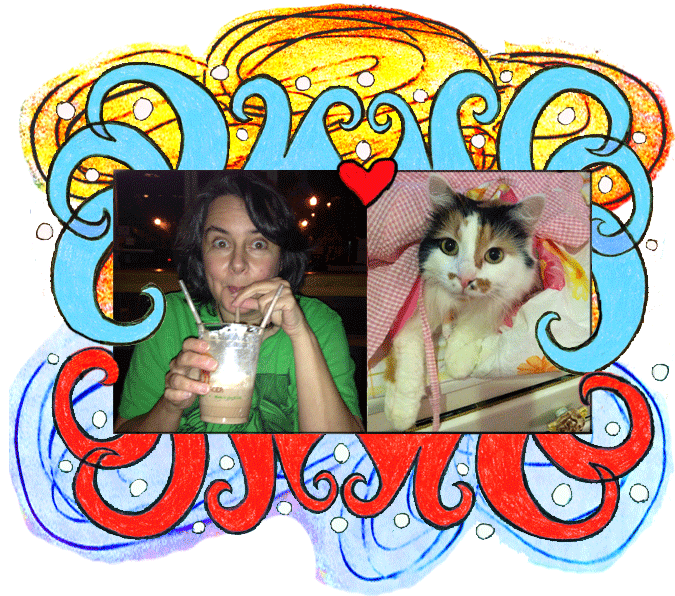 Hi I'm Claire, the artist featured on this website!
Charlene the beautiful SHE'S MY ARTISTIC MUSE.... a lovely loving lovable mystical magical kitty she is!
(i thought this photo of me & Charlene was too plain so I thought I'd put a quick little border around it,
(full disclosure, in 2021 my hair is grayer than shown in the picture)
apparently I went a bit nuts) And, well, dang it, Charlene has decided to be a Cat Angel now, as of Oct. 4 2017.
Now, Dec. 2 - I'm adopting a lovely 8 month old kitty
NOW... Dec. 8, I have her! She's Beautiful!! And I named her Shimmer,
she's not warmed up to me yet, but SOON, and I will post a picture.
UPDATE: She's really warmed up to me and lets me hold her and is wonderful!
NOW! OCT. 2020, Shimmer is a happy indoor/outdoor cat living her best life!
Here is Claire wearing her special CREATIVITY glasses
Claire Here At Your Service! MAY 1, 2021 update:
ART SHOW AT MY HOUSE. May 15 & 16. SEE SHOW page here on my website!
I'm starting the process of s l o w i n g down my magnet & towel business.... I have some lamination left, and I think i'll make mostly GOD magnets because they sell like hotcakes on ETSY, and some other of my more popular ones. But overall, i won't be making more magnets!! Feels so weird, I've been making them since 1998!!! And I have tons of towels, but I'm not going to be buying anymore, so I'll sell what I have. STILL GONNA PAINT RECORDS, though!!
I'm now painting records but for now can be seen only on my Facebook Page, 'Claire Was Here - Art' they are various prices ....
I'm going to go ahead and make a book of most of my designs!!!! (or so I say) STAY TUNED.
EVERYTHING HERE IS HANDMADE BY ME, EVEN THE MAGNETS, I LAMINATE THEM ON MY LAMINATOR, THEN CUT THEM OUT INTO DIFFERENT SHAPES, then I affix a magnet to the back. I'm tired of doing magnets and will phase them out in 2021, I've already run out of some designs!

I used to paint backwards on old windows (reverse-glass painting). I am especially suited for this process because I've always been able to write backwards! A lot of my towel images come from window paintings.
I was making Cardboard Paintings, I called them the "Archival Schmival" Series. They hang from wire with beads and you can put them over a doornob... or on a wall. UPDATE: They are not selling like hotcakes, they are selling more like cardboard, he-he (... on to something different...) BUT I did get some images for my towels from some of these paintings... and this leads me to my next sermon "there's no such thing as wasted time" "amen."
ABOUT ME: I love to create and learn and do fun things like swim and play mini golf and ping pong and frisbee and hang out with my cat and sew myself some clothes. I'm always trying to find ways to have fun.... creating my products is one of those fun things I really enjoy doing. I'm writing a book about Shimmer and even considering making cat toys, and more pillows, in shapes! I live in Georgia with my cat near a lake and am starting to enjoy traveling around a bit... the beach is a top destination, WAVES! Oh, and lately starting to become a master soup maker! I do a great one with wild rice, sweet potato, onion, garlic, mushrooms, carrots and celery which I never seem to have lately... OH and at the end, throw in some Kale (lots!) and a can of coconut milk. Delish and warming and healthy yet tasty! NO WAIT, throw in some bok choy at the end, delishus... BUT NOW, Arizona Melissa has taught me how to make her split pea soup and I've made two pots and YUM

Business is Great, People are Terrific & Life is WONDERFUL!!! yaHOOO!