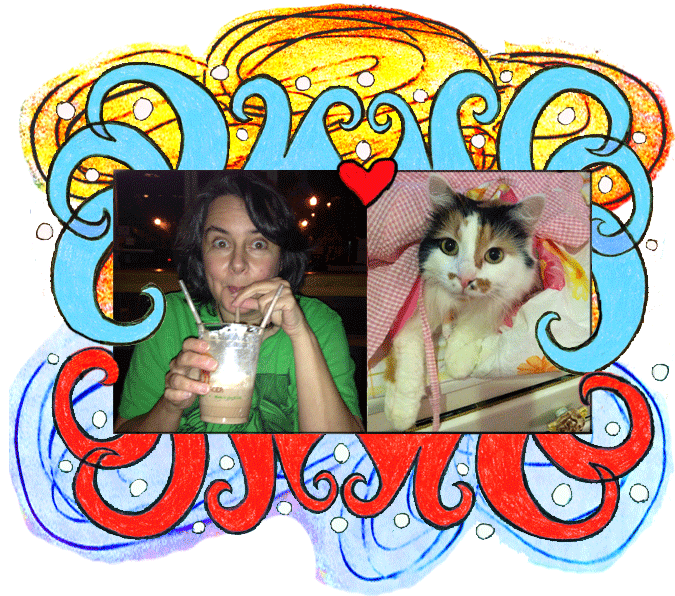 Hi I'm Claire, the artist featured on this website!
Charlene the beautiful SHE'S MY ARTISTIC MUSE.... a lovely loving lovable mystical magical kitty she is!
(i thought this photo of me & Charlene was too plain so I thought I'd put a quick little border around it,
apparently I went a bit nuts) And, well, dang it, Charlene has decided to be a Cat Angel now, as of Oct. 4 2017.
Now, Dec. 2 - I'm adopting a lovely 8 month old kitty
NOW... Dec. 8, I have her! She's Beautiful!! And I named her Shimmer,
she's not warmed up to me yet, but SOON, and I will post a picture.
UPDATE: She's really warmed up to me and lets me hold her and is wonderful!
Here is Claire wearing her special CREATIVITY glasses
Claire Here At Your Service! April 10, 2019 update:

And the FAMOUS SHIMMER-CAT has a new venture: cat toys! Stay tuned for her favorites that you can buy for your own favorite feline friend! we have not yet started production, but there are ideas flowing...
EVERYTHING HERE IS HANDMADE BY ME, EVEN THE MAGNETS, I LAMINATE THEM ON MY LAMINATOR, THEN CUT THEM OUT INTO DIFFERENT SHAPES, then I affix a magnet to the back.
TOWELS : I am enjoying putting my art on towels, I have some really great flat weave designs!

I paint backwards on old windows (reverse-glass painting). I am especially suited for this process because I've always been able to write backwards! A lot of my towel images come from window paintings.
I was making Cardboard Paintings, I called them the "Archival Schmival" Series. They hang from wire with beads and you can put them over a doornob... or on a wall. UPDATE: They are not selling like hotcakes, they are selling more like cardboard, he-he (... on to something different...) BUT I did get some images for my towels from some of these paintings... and this leads me to my next sermon "there's no such thing as wasted time" "amen."
ABOUT ME: I grew up in Atlanta, went to Boone NC to college for some partying and meeting some lifelong friends, then to GA State for a quarter, then to Ft. Collins CO to study art, or so I thought, but I didn't think I could do it so I majored in Black & White photography, which I'm not that great at, but I love and appreciate the medium. Back to Atlanta where I went to the Portfolio Center to become a Commercial Photographer, (I was dreading it from the start) ...then I saw some graphic design work on the wall and thought "i want to do THAT!" so I switched careers. I did really well! Got a job in Greenville SC (picking up a few more lifelong friends, to go along with my other Pace Academy 4th grade lifelong friends and those Boone NC ones I picked up) and finally one day (doing Landmark Education for a while helped me make the leap) I decided to try to make a go of it, and started doing art and art shows. ALSO reading the book "Life Paint & Passion" led me to do workshops with Stewart Cubley which have been very influential in my life and art! I was freelancing (graphic design) in this transition period. For about 10 years I lived on a muscadine vineyard in Decatur GA. Now I live in a neighborhood in Cumming GA, I have never lived in a neighborhood like this! I like it! I wish for people to be "eau naturel" with their yards and think of the bees and pets and the rabbits running around eating grass...and the ground water) My mother used to say "once you cut whatever is in your yard, it's green and it looks FINE", she was smart in that arena!
I now live near some beautiful parks and THE LAKE, and I found some mtn. bike trails 2 miles from my house the other day! Whoop!

I sell my magnets and other artsy goodies I come up with, and am always sewing something or painting ...
Business is Great, People are Terrific & Life is WONDERFUL!!! yaHOOO!